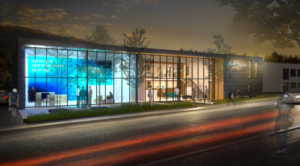 Together with a number of industrial companies as well as local authorities and multipliers, but also the Protestant church district, Prof. Dr. Thomas Ludwig is planning to establish a qualification center for digital topics in Wittgenstein. The "digital future workshop" is to provide an important foundation for the broad-based digitization of the Wittgenstein region.
The region, which is strongly influenced by industry, is thus to be provided with new opportunities for the (further) qualification of students, trainees, skilled workers and also senior citizens in the digital field, thus creating long-term and sustainable incentives for the region. The project planning was preceded by a feasibility study carried out by Prof. Ludwig, the aim of which was to determine the current needs of the region and the industries based there. The study showed that there is a great need for orientation knowledge, technical possibilities and qualification contents. This need is now to be met by the "digital future workshop".
There is a detailed article in the current IHK Siegen Wirtschaftsreport.
The participants of the project are:
EJOT Holding
Erndtebrücker Eisenwerk (EEW)
Osterrath
Regupol BSW
Heinrich Wagner Sinto (HWS)
Chamber of Industry and Commerce
Protestant church district
City of Bad Berleburg
City of Bad Laasphe
Commune Erndtebrück
District Siegen-Wittgenstein
University of Siegen