Digital technologies for the secondary school Olpe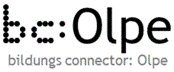 Since the beginning of the year the planning of the Bildungsconnector Olpe (bc:Olpe) has been ongoing. The aim of this project is to promote digitization in education. The focus here is on the development of competence among teachers and the professionalization of teacher training at the university. Our chair participates with 12 other teachers of the University of Siegen, eight schools in Olpe as well as partners from the district and city of Olpe in this project, which will be started with the school year 2021.
While we are already working hard on the implementation of the first concepts, we have already started a small project with the secondary school Olpe-Drolshagen. Within the scope of a computer science club with the grades 8 and 9, the students will be introduced to the handling of digital technology. In a first project, we are providing 360-degree cameras with which the participants are allowed to create a digital tour of their school. Due to pandemic-related restrictions, our project supervisor Florian Jasche is not allowed to help live on site. He will, however, join in via zoom calls and provide assistance and valuable tips on how to use the technology.
Later int the course, the students will be able to familiarize themselves with virtual and augmented reality. The students will be introduced to the technology in a practical and playful way. We will test different hardware as well as AR and VR applications together. Based on this, the students will also deal with basic design questions: How could AR or VR applications be embedded into the school life? For which subjects could the technologies be suitable? What content should the applications have? How could these contents look like in concrete terms? At the end of the course we try to develop concepts together with the students for new teaching and learning applications in AR or VR.
The secondary school in Olpe, with its Drolshagen branch, is a secondary school with currently about 978 students. Within the scope of various working group offers in the areas of MINT, education and health, sports, music, handicrafts or politics, among others, young people from grade 8 on can pursue their own interests and develop enthusiasm for new projects. In this sense, the informatics course offers pupils an extraordinary opportunity to expand their skills in dealing with digital media, to contribute ideas, to implement them and to make them tangible for others.
For us, the cooperation with the school, the teachers and the pupils is a new experience and we are very much looking forward to the coming months of cooperation with all those involved in the Secondary School Olpe and hope for a lot of input from the working groups.