Prof. Dr. Thomas Ludwig
Cyber-Physical Systems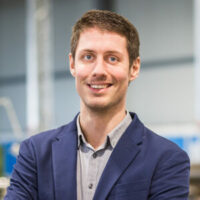 thomas.ludwig(at)uni-siegen.de
Room: US-D 112 (Ludwig-Wittgenstein-Haus, Campus Unteres Schloss)
Phone: +49 (0) 271 740-4763
Mobile: +49 (0) 176 / 62 65 65 70
Skype: thomasludwig0
Twitter: thomasludwigWI
Consultation hour: By arrangement
Vita
Thomas Ludwig is an assistant professor for information systems, especially Cyber-Physical Systems. He studied information systems at the University of Siegen and the University of Newcastle (Australia) and did his PhD on complex information infrastructures and its research through mobile and social media (grade: Summa cum laude). His research interests include the design and appropriation of cyber-physical systems and industry 4.0, human-centered technology design, and mobile & wearable computing.
From 2016 to 2017, Thomas Ludwig led department of Internet of Things, which focused on hardware-related appropriation processes and the use of wearables in complex working practices. Since 2017, Thomas Ludwig has been the manager of the Mittelstand 4.0-Kompetenzzentrum Siegen, which aims to support small and medium-sized enterprises with regard to digitization. He implemented a number of digitization projects and, for example, launched the now established series of Digital Scouts workshops.
Thomas Ludwig was a researcher at in the research-training group Graduiertenkolleg "Locating Media" between 2013 and 2016. In this span, he acquired and worked in the EU-funded project EMERGENT, in which he coordinated the development of a cross-platform interface for gathering social media data. Since April 2015, Thomas Ludwig led the self-acquired project KOKOS, which was funded by the Federal Ministry of Education and Research. The project encompasses the development of technical concepts and IT-tools – targeting a cooperation of official authorities and organization with the population in crises. In 2016, he led the self-acquired project EKPLO. The project aims to make the potentials of Advanced Planning and Scheduling (APS) systems usable – especially for small and mid-sized businesses in special consideration of employees of order and recourse planning.
Thomas Ludwig has already published a variety of renowned publications in the field of HCI and CSCW, which are accessible via his publication list. He also hosted a series of scientific and international workshops. His work has already been awarded several times:
Academic Career
Seit 08/2018:
Juniorprofessor frür Wirtschaftsinformatik, insb. "Cyber-Physische Systeme"
Seit 08/2018:
Stellv. Geschäftsstellenleiter "Mittelstand 4.0-Kompetenzzentrum Siegen"
10/2017-07/2018:
Geschäftsstellenleiter "Mittelstand 4.0-Kompetenzzentrum Siegen"
10/2016-09/2017:
Bereichsleiter "Internet of Things" am Institut der Wirtschaftsinformatik
10/2013 until 09/2016:
Research associate at the DFG graduate college "Locating Media" of the University Siegen Ph.D. with the degree Dr. rer. Pol. Dissertation title "Designing ICT Tools for Researching Information Infrastructures" (Note: summa cum laude)
10/2012 until 10/2013:
Research associate CSCW & Social Media (Prof. Dr. Volkmar Pipek)
11/2008 until 09/2012:
Student assistant CSCW & Social Media (Prof. Dr. Volkmar Pipek)
07/2011 until 12/2011:
Semester abroad: University of Newcastle, Australia
10/2007 until 09/2012:
Information systems studies with the degree Dipl.-Wirt.Inf. Thesis title (translated): "Mobile reporting mechanism for collecting and processing decision-relevant information for crisis management" (Grade 1,0)
Hosted Workshops
Mensch Computer Interaktion in sicherheitskritischen Situationen
veranstaltet auf der 17. Konferenz Mensch und Computer (MuC 2017)
Crowds at Risk: Exploitation, Creative Destruction, and the Unintended Effects of Crowdsourcing
veranstaltet auf der 15. European Conference on Computer-Supported Cooperative Work (ECSCW 2017)
Hardware-orientiertes situiertes Wissensmanagement
veranstaltet auf der 9. Konferenz Professionelles Wissensmanagement (WM 2017)
Additive Fertigung/3D Druck – Technologie, Auswirkungen und Chancen
veranstaltet auf der 46. Jahrestagung der Gesellschaft für Informatik (Informatik 2016)
Mensch Computer Interaktion in sicherheitskritischen Situationen
veranstaltet auf der 16. Konferenz Mensch und Computer (MuC 2016)
Crowd Dynamics: Exploring Conflicts and Contradictions in Crowdsourcing
veranstaltet auf der 34. ACM Conference on Human Factors in Computing Systems (CHI 2016)
Toward a Typology of Participation in Crowd Work
veranstaltet auf der 19. ACM Conference on Computer-Supported Cooperative Work and Social Computing (CSCW 2016)
Mensch-Computer-Interaktion und Social Computing in sicherheitskritischen Situationen
veranstaltet auf der 15. Konferenz Mensch und Computer (MuC 2015)
Mensch-Computer-Interaktion und Social Computing in Krisensituationen
veranstaltet auf der 14. Konferenz Mensch und Computer (MuC 2014)
Publications
2023
2022
2021
2020
2019
2018
2017
2016
2015
2014
2013
2012