Julia Nießner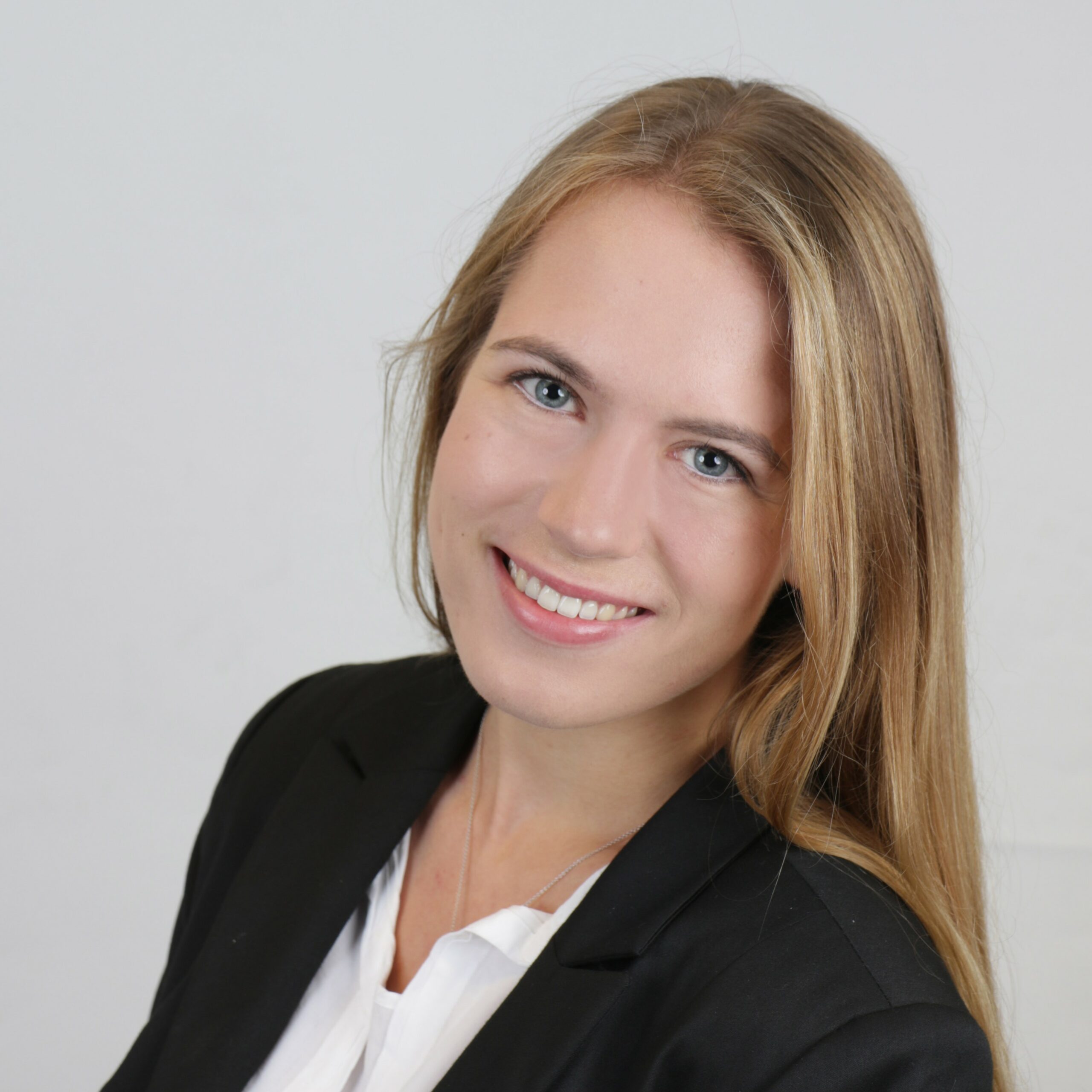 Email:
julia.niessner(at)uni-siegen.de
Room: US-D 117 (Ludwig-Wittgenstein-Haus, Campus Unteres Schloss)
Phone: +49 (0) 271 / 740 5247
Consultation hour: By arrangement
Vita
Julia Nießner is a research assistant at the Chair of Cyber-Physical Systems. She studied Business Informatics (B.Sc.) at the Fontys University of applied Science in the Netherlands. As part of her bachelor's degree, she completed an Erasmus semester abroad at INSEEC in Chambéry (France), with a focus on International Trade. Parallel to her studies, Julia gained practical experience at a leading automotive manufacturer and an international IT service provider. In cooperation with the latter, she also wrote her bachelor thesis on the topic of "Digital Twins – Power Prediction for Wind Turbines".
Afterwards Julia began her master's degree in information systems (M.Sc.) at the University of Siegen. She successfully completed her master's degree in February 2021 with her master's thesis on "Design, development and evaluation of a recipe recommender system".
Since March 2021, Julia is working as a research assistant. Her current focus is on supporting a project to develop a regional future center for artificial intelligence.
Publications
2021
---

Nießner, J. & Ludwig, T. (2021)

Design of a Knowledge-Based Recommender System for Recipes From an End-User Perspective

Mensch und Computer 2021

. New York, NY, USA, Publisher: Association for Computing Machinery, Pages: 512–519 doi:10.1145/3473856.3473888
[BibTeX] [Abstract] [Download PDF]

Nowadays, recommender systems are a fundamental part of several online services. However, most of these systems rely on collective user data and ratings or a preselection of parameters to derive appropriate recommendations. Within this paper, we examine recommendations without previous user data. We therefore designed and evaluated a knowledge-based recommender system by turning to recipe recommendations that offer alternatives for favorite recipes. We introduce and compare three versions of a given algorithm. Our evaluation shows that the knowledge-based approach may serve as a good start for deriving appropriate recommendations without prior user data. Moreover, we show that end-users' assumptions about decisive criteria of a recommender system do not necessarily match the later actual decisive criteria.

@inproceedings{niesner_design_2021,
address = {New York, NY, USA},
series = {{MuC} '21},
title = {Design of a {Knowledge}-{Based} {Recommender} {System} for {Recipes} {From} an {End}-{User} {Perspective}},
isbn = {978-1-4503-8645-6},
url = {https://doi.org/10.1145/3473856.3473888},
doi = {10.1145/3473856.3473888},
abstract = {Nowadays, recommender systems are a fundamental part of several online services. However, most of these systems rely on collective user data and ratings or a preselection of parameters to derive appropriate recommendations. Within this paper, we examine recommendations without previous user data. We therefore designed and evaluated a knowledge-based recommender system by turning to recipe recommendations that offer alternatives for favorite recipes. We introduce and compare three versions of a given algorithm. Our evaluation shows that the knowledge-based approach may serve as a good start for deriving appropriate recommendations without prior user data. Moreover, we show that end-users' assumptions about decisive criteria of a recommender system do not necessarily match the later actual decisive criteria.},
urldate = {2021-09-14},
booktitle = {Mensch und {Computer} 2021},
publisher = {Association for Computing Machinery},
author = {Nießner, Julia and Ludwig, Thomas},
month = sep,
year = {2021},
keywords = {Knowledge-based Filtering, Recipes, Recommender System, Similarity Metrics, User Study},
pages = {512--519},
}

---

Weber, P., Krings, K., Nießner, J., Brodesser, S. & Ludwig, T. (2021)

FoodChattAR: Exploring the Design Space of Edible Virtual Agents for Human-Food Interaction

Designing Interactive Systems Conference 2021

. New York, NY, USA, Publisher: Association for Computing Machinery, Pages: 638–650 doi:10.1145/3461778.3461998
[BibTeX] [Abstract] [Download PDF]

There has been recent criticism from researchers towards simple replication of traditional role models in the design of virtual agents and robots, and a call for new forms of interaction and communication with technology. By exploring the field of Human-Food interaction (HFI) – a sub-area of Human-Computer Interaction (HCI) which aims to investigate the diversity of ways people interact with food – we therefore specifically examine the design space of edible anthropomorphic virtual agents (EAVAs). To understand human-to-food interactive communication, we conducted an interview study with 19 participants, followed by a co-design workshop on the design of conversational agents for personified food. Based on the results, we implemented a prototype called FoodChattAR that employs augmented reality and chatbots to interact and communicate with food. Our evaluation with 21 participants shows that FoodChattAR turns eating into fun, while at the same time the food conveys relevant societal facts about itself. We contribute to the field of HCI by introducing EAVAs as a novel human-to-food interaction.

@inproceedings{weber_foodchattar_2021,
address = {New York, NY, USA},
series = {{DIS} '21},
title = {{FoodChattAR}: {Exploring} the {Design} {Space} of {Edible} {Virtual} {Agents} for {Human}-{Food} {Interaction}},
isbn = {978-1-4503-8476-6},
shorttitle = {{FoodChattAR}},
url = {https://doi.org/10.1145/3461778.3461998},
doi = {10.1145/3461778.3461998},
abstract = {There has been recent criticism from researchers towards simple replication of traditional role models in the design of virtual agents and robots, and a call for new forms of interaction and communication with technology. By exploring the field of Human-Food interaction (HFI) – a sub-area of Human-Computer Interaction (HCI) which aims to investigate the diversity of ways people interact with food – we therefore specifically examine the design space of edible anthropomorphic virtual agents (EAVAs). To understand human-to-food interactive communication, we conducted an interview study with 19 participants, followed by a co-design workshop on the design of conversational agents for personified food. Based on the results, we implemented a prototype called FoodChattAR that employs augmented reality and chatbots to interact and communicate with food. Our evaluation with 21 participants shows that FoodChattAR turns eating into fun, while at the same time the food conveys relevant societal facts about itself. We contribute to the field of HCI by introducing EAVAs as a novel human-to-food interaction.},
urldate = {2021-07-05},
booktitle = {Designing {Interactive} {Systems} {Conference} 2021},
publisher = {Association for Computing Machinery},
author = {Weber, Philip and Krings, Kevin and Nießner, Julia and Brodesser, Sabrina and Ludwig, Thomas},
month = jun,
year = {2021},
keywords = {Human-Food Interaction, rendezfood, Anthropomorphism, Augmented Food, Conversational Agents, Edible Anthropomorphic Virtual Agents, Virtual Agents},
pages = {638--650},
}