BIMPUT: Official launch of the funding line in Berlin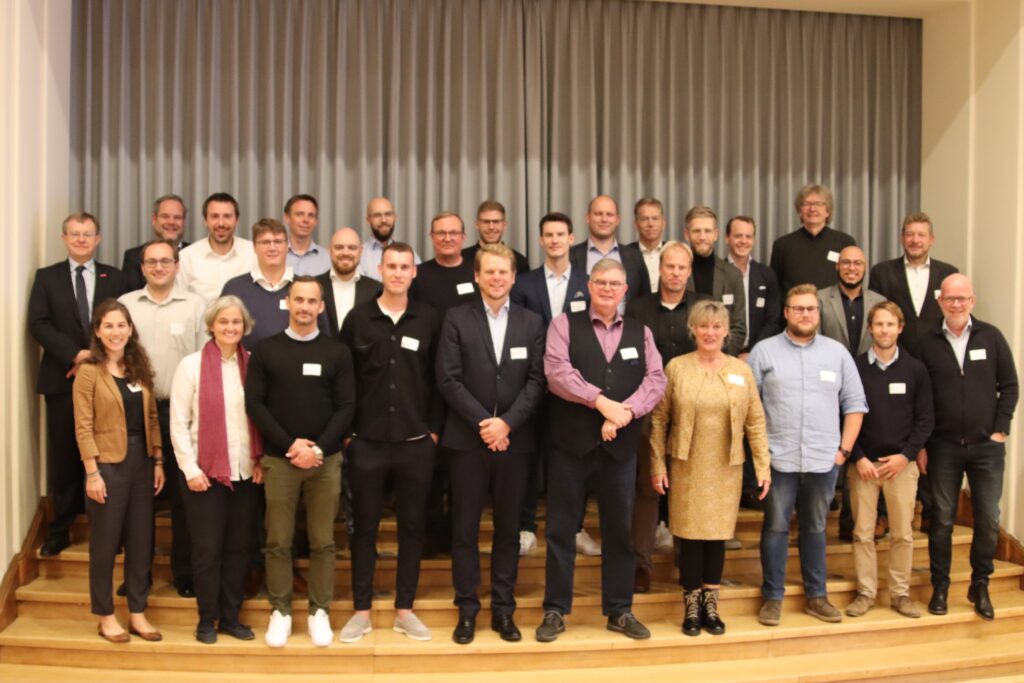 At the beginning of October, on 10.10.2022, the BIMPUT team had the opportunity to present themselves and the project at the official kickoff meeting of the BMBF (German Federal Ministry of Education and Research) funding program "Handwerk 4.0: digital und innovativ".
More than 30 participants on-site and additionally more than 70 people online took part in the hybrid meeting in Berlin at the "Haus des Handwerks" (German House of Crafts) of the "Zentralverbands des Deutschen Handwerks" (German Confederation of Skilled Crafts). At the beginning, the 10 funded projects of the program were able to present themselves and provide information about their projects and project goals to the collaborative project partners as well as interested persons from trade associations and Chambers of skilled crafts. The afternoon focused on networking and content-related exchange between the individual projects of this funding track.
While BIMPUT and the DiBesAnSHK project have already been active for a year, the kickoff meeting was the starting signal for the other projects. Overall, the funded projects cover a wide range of topics and focus on various subareas of the skilled crafts trades. The aim of the projects is to develop new technologies "by and for the skilled crafts," which is evident from the 72 skilled crafts companies involved in the projects. "Digital potential is abundant in the skilled crafts," says Kevin Krings from the Institute for Business Informatic Systems at the University of Siegen.
For Kevin Krings, who represented BIMPUT in Berlin together with Kim Jonas Münker from G-TEC Ingenieure GmbH and Daniel Grube from wirbauen.digital GmbH, the mood at the meeting was consistently motivating and positive. "Everyone wants to make a difference with their projects and were also interested in each other's projects." The physical meeting revealed potential synergies between BIMPUT and other projects and enabled an intensive exchange with other participants.
Mr. Krings concluded the meeting by saying that "there are great expectations on our project, BIMPUT." Of the funded projects, BIMPUT is the only project in the thematic area of "Building Information Modeling", and in this context the importance of BIM in the skilled crafts sector was once again underlined by representatives of the BMBF. "We really have to make a difference with our project – that is motivating," says Kevin Krings. The initial interesting results of the project after one year of project duration could already be presented in Berlin and will be presented in more detail at the upcoming first consortium meeting on 06.12.2022 at the University of Siegen.